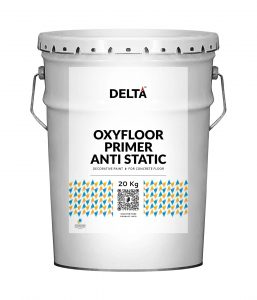 DELTA Oxyfloor Primer Anti Static
Packaging:
5 kg and 20 kg
Description:
No odour – application works can be carried out without complete shutdown.
No fire hazard – can be used in areas where solvent based coatings are not allowed.
Prevent static electric destruction of sensitive components.
Environmental friendly – Zero VOC content.
Superior anti static properties and not affected by ageing.
Good resistance against mild chemicals.
Excellent adhesion to concrete and masonry surfaces.
Easy to clean – application tools and equipment can be cleaned easily with water after use.
© 2020 PT Putramataram Coating International. All Rights Reserved.